Real Coffee never compromise on quality or taste. The reason why our Nespresso compatible capsules
are so affordable is because we don't spend lots of money on marketing, or on expensive capsules made
of non-biodegradable aluminium.

And because we believe that taste is everything, we only use the finest Arabica beans on the market.
Arabica has a well-rounded but mild flavour, with a dark crema. However we do use Robusta beans in
some varieties, like our Espresso Roma and Espresso Venezia, to offer a stronger flavour.
Classic Italian Blends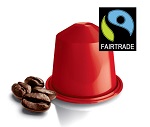 Espresso Roma Fair Trade is our extra strong, full-bodied espresso – a real kick-starter! Roma is a blend of 70% Robusta and 30% Arabica beans. In this premium blend, the full-bodied flavour from the Robusta meets the sweet, spicy notes from the Arabica. The intense flavour is rounded off with a lingering hint of hazelnut and a rich crema. Go to Shop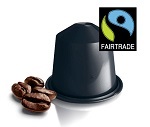 Espresso Venezia, Fair Trade is a powerful espresso with great intensity. It's produced with 80% Arabica and 20% Robusta beans from South America. The unique mixture has a round, well-balanced and spicy taste. Go to Shop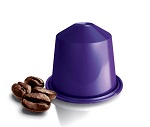 Espresso Verona is always a favourite in the Real Coffee range – an authentic, dark-roasted Italian espresso with a full, thick crema. It's ideal for café latte or macchiato, or as part of your own espresso and milk recipe. Go to Shop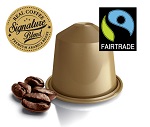 Espresso Napoli Signature Blend is a full flavoured, well-balanced espresso with a strong character
and intense taste. The dark roasting process and the nutrient-rich soils of the Southern American Highlands give the beans a unique, nutty flavour with a hint of cocoa. Go to Shop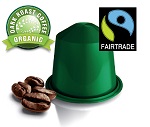 Espresso Bologna
is Fair Trade and organic in one cup! It's made of 100% Arabica beans from the South American highlands, grown without the use of pesticides and chemicals. The thorough roast gives it a dark, frothy crema, highlighting the bean's natural aroma. Bologna has a rich, velvety taste, making it ideal for café latte. Go to Shop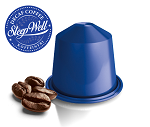 Espresso Torino Decaf awakens your senses without interfering with a good night's sleep. The coffee is made of 100% Arabica beans, carefully chosen from South American plantations, with delicate notes of freshly picked fruit, flowers and honey. Big taste, no caffeine! Go to Shop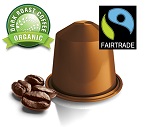 Lungo San Marino is an exquisite long coffee with great ethics – 100% organic and 100% Fair Trade, meaning it's good for both the farmers and the environment. The Arabica beans are split roasted, which highlights the unique characteristics of each blend. San Marino offers a creamy, full flavoured coffee with an intense character. Go to Shop
Single Origin quality coffee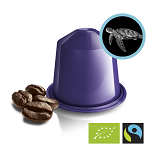 Organically cultivated by the Mandailing people of the northern Sumatra. Tha Arabica beans are recognized by its discrete acidity, which leaves a sweet taste with notes of chocolate, licorice and herbs. A complex flavor with a variety of intriguing nuances. Cultivated by small, independent coffee farmers on Fairtrade conditions. Go to Shop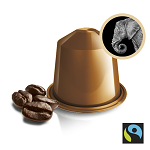 A true Grand Crú from where coffee originated!100% Arabica. In the Limu district in Ethiopia an extraordinary coffee is cultivated. The natural springs, the sun, humidity and the altitude create the ideal conditions for growing coffee. Ethiopia is processed by the wet-processing method, which gives the coffee a delicate sweetness and a refreshing hint of lime. Cultivated by small, independent coffee farmers on Fairtrade conditions. Go to Shop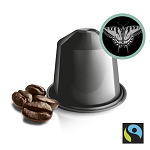 Colombia is well known for its production of the best and finest Arabica beans. The nutrient-rich soil and climate of the Andes mountains cultivates a complex and rich in taste Lungo. Single Origin Colombia is recognizable by its round, nuanced and nutty flavor, as tradition would have it. The Arabica beans are cultivated by small, independent coffee farmers on Fairtrade conditions. Go to Shop