Organic
Zero pesticides. Zero additives.
Buy organic coffee and support a choice that bennefits the environment. Look for the green organic label to guarantee that your coffee is certified organic

Aluminium
Aluminium: 100% Recyclable. Infinitely.
Our exclusive new aluminium coffee capsules offer a better flavour and performance, while being able to be recycled over and over and over again.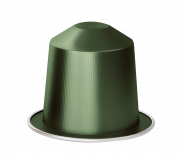 Recycling
Creating a greener future, together.
Recycle your coffee capsules and give them a new life. Return your aluminum capsules to your local recycle-station. All you have to do is remove the coffee grounds.

Fairtrade
No to exploitaion. Yes to education
Drink your coffee with a clear conscience. Fairtrade works to create better wages, and improved working and living conditions for our farmers and their families.