Wholesale Partnership with Real Coffee
Real Coffee specialise in cost-effective, environmentally-friendly, long-life coffee capsules that are compatible with all models of Nespresso machines. They have been successfully launched in wholesale and retail markets across Europe, including the UK, Denmark, Sweden and Norway.
Beginning a partnership with Real Coffee is quick and easy, and gives you access to 11 popular varieties, including organic and Fairtrade-certified blends, and distinctive Single Origin coffees.
Read on to find out how Real Coffee wholesale can work for you and your customers.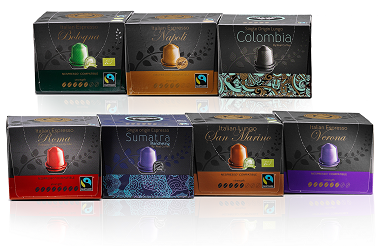 Why Real Coffee?
#1 Rated Capsules for Nespresso
Real Coffee offers a premium brand of coffee capsules, including Fairtrade and organic varieties. Our capsules are 100% compatible with all Nespresso machines and have been rated #1 in taste tests by independent, mainstream news channels in Denmark and the United Kingdom. See independent review here and read customers reviews on Facebook here.
Guaranteed Freshness
Each capsule contains five grams of fresh coffee, which is grinded directly into the capsule before being instantly sealed, in one production process. As the capsules have an airtight seal, they do not require additional plastic wrapping. This ensures a more compact product that is well-suited for online retailers and delivery in small packages, and also saves valuable shelf space.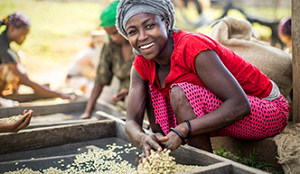 Environmentally Friendly
Real Coffee capsules are made of polyethylene – a plastic material used across the food industry. The environmental impact from polyethylene is considerably less when compared with aluminium.
Polyethylene can also be easily recycled along with other plastic waste, and will only produce CO2 and water when it is incinerated with general waste. Read more about our view on environmental issues here.
Highest European Production Standards
Our products are produced under the highest European standards of production and safety. Our product is covered by all forms of Fairtrade, organic, environmental and health certifications.
Long Shelf Life
Each capsule has a shelf life of 12 months from the manufacturer and Real Coffee guarantees a shelf life of at least 9 months from the delivery of the products.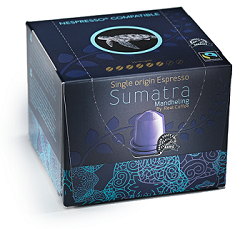 Extensive Range of Nespresso-Compatible Capsules
Espresso Roma: A strong, Fairtrade Espresso. 30% Arabica and 70% Premium Robusta beans.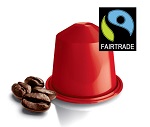 Lungo San Marino: 100% organic and Fairtrade. A full-flavoured and intense Lungo.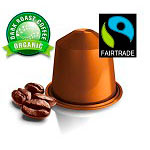 Espresso Venezia: A Fairtrade strong and well-balanced Espresso. 80% Arabica and 20% Robusta.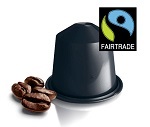 Espresso Torino: Decaffeinated Arabica coffee. Notes of flowers and honey.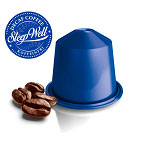 Espresso Verona: A popular, dark-roasted, 100% Arabica Espresso. Ideal for Café Latte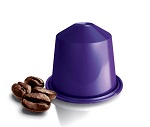 Single Orgin Espresso Sumatra: Fairtrade and organically cultivated. Notes of chocolate and liquorice.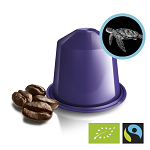 Espresso Napoli: Real Coffee's Fairtrade Signature blend. Delicious, well-rounded taste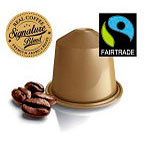 Single Origin Lungo Colombia: A Fairtrade and rich Lungo with a round and nutty flavour.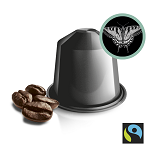 Espresso Bologna: 100% Organic and Fairtrade Arabica coffee. Rich, velvety taste.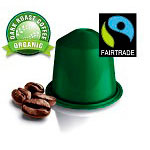 Single Origin Espresso Ethiopia: 100% Arabica Grand Crú espresso. Fairtrade and made by the wet-processing method, giving it a delicate sweetness and hint of lime.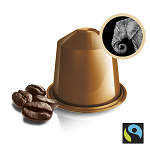 How We Do Business
Real coffee has a low MOQ – minimum of two pallets – and you can choose freely between our 10 different varieties. A special discount based on volume is available.
Our product is always in stock and the delivery from our central warehouse in Denmark is quick, with products shipped one day after the order is received.
A pallet of Real Coffee capsules contains 240 shop units. A consumer unit is a box with 10 coffee capsules in each, and there are 10 consumer units in each shop unit. This means there is a total of 2400 consumer units on one euro-pallet.
All orders are based on ex works and with pre-payment.
Professional marketing materials are available to support the sale.
For more information or to find out how a Real Coffee wholesale partnership can work for you, contact us at wholesale@realcoffee.com