Lungo Pods for Nespresso®
Real Coffee offers two unique and deliciously balanced Nespresso® compatible lungo pods. Our range of Nespresso® compatible capsules is carefully selected, with a focus on organic, Fairtrade and quality coffee.
Our coffee is made using the finest Arabica beans, ensuring a complex coffee that's full of flavour. Try our Lungo San Marino, which is 100% Organic and 100% Fairtrade, or give our Single Origin Lungo Colombia a go – the quintessence of a complex and tasteful lungo.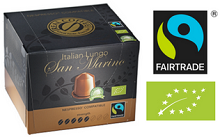 What is Lungo Coffee – The Way to Enjoy an Extended Espresso
A cup of lungo is very similar to a regular cup of coffee. In a lungo, the coffee beans are coarser and three times as much water is used to brew it, compared to a normal espresso. A lungo coffee is essentially a prolonged espresso that results in a longer coffee experience. It takes longer for the water to get through the capsule and to extract the taste, meaning a lungo tends to have more complex flavours. It's also a milder way of drinking espresso, still offering the same rich taste and intensity – just without bitterness. Lungo can be enjoyed black or with a splash of milk.
Enjoy a Rich and Creamy Lungo Instead of an Americano
Do you enjoy your regular espresso with added hot water as an Americano? If so, it's time to try our lungo varieties for Nespresso®. A lungo is similar to an Americano, but a little smaller and with more flavour. Like an espresso, a lungo is enjoyed black, so you can appreciate the complexities of the coffee.
What's So Special About Single Origin Coffee Pods?
Single Origin means that the coffee comes from a particular country and a particular farm. For example, Real Coffee's Single Origin Nespresso® compatible lungo pods originate solely from Colombia. Colombia is well-known for producing the finest Arabica beans. Our Single Origin Lungo Colombia is recognized by its round, nuanced and nutty flavour.