We are proud to introduce our new and improved capsule design!
It came to our attention that some of our customers had previously experienced problems with the compatibility of our Nespresso®-compatible capsules. This was particularly the case with the Nespresso Expert® and Nespresso Citiz & Milk® machines. We listened to your feedback and have solved these issues with our newly perfected capsule design.
---
The benefits of our new design:
Improved compatibility
Each capsule is guaranteed 100% compatible with all Nespresso® machines, including Prodigio, Expert and Citiz & Milk.
The new design features foil on both ends of the pod, making it easier for the needles in your Nespresso® machine to penetrate the capsule.
---
More taste and aroma
With our new capsule design, you are guaranteed a noticeable improvement in flavour and aroma, as the new pods are 100% airtight.
The new and improved seal also means that your coffee will stay fresher for longer.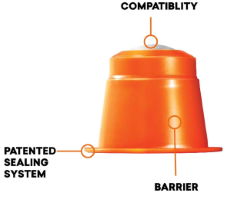 ---
Easier lever closing
The new capsule design also makes it easier to close your machine once the pod is placed into the chamber.
This means that you won't have to use as much force, which is better for your machine and easier for you.
If you have any questions about the new capsules or about Real Coffee in general, you are always welcome to email us at service@realcoffee.com. We are always happy to help!